AWARDS!
Thanks to all who have visited, supported and benefited from the F.R.E.E. website. It's especially humbling to receive recognition in the form of awards like this and we're very thankful!
---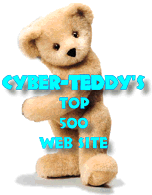 Kinda cute, isn't he?
Thanks to Cyber-Teddy
for bestowing their "Top 500 Web Site
award" on us! Check out their site at:
www.cyberteddy-online.com
---

F.R.E.E. has recently been awarded a three-star rating on Mental Health Net, the largest review guide of mental health, psychology, and psychiatry resources online today.


---

[ Home ]

This page last edited: Jan 15, 2009 07:47 PM

© Copyright 1999, 2000 All rights reserved